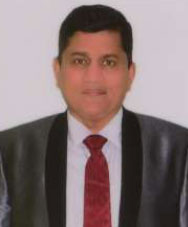 Dr. Biswajit Sahu
Professor
Dr. Biswajit Sahu
Professor
Email:

drbiswasahu@yahoo.com
Permanent Address:

2nd Floor, Sriramchandra Apartment, Medical Rode, Ranihat, Cuttack-753007
Correspondence Address:

2nd Floor, Sriramchandra Apartment, Medical Rode, Ranihat, Cuttack-753007
| Course Name | Name of PG Degree | Area of Specialization/ Specialty | Year of Qualifying degree | Name of University / Institute |
| --- | --- | --- | --- | --- |
| MBBS | | | 1989 | S.C.B Medical College Cuttack(Utkal University) |
| PG Degree | M.S | Orthopaedics | 1994 | M.K.C.G Medical College, Berhampur(Berhampur University) |
Sahu B, Prusty A, Tudu B. Total contact casting versus traditional dressing in diabetic foot ulcers. J OrthopSurg (Hong Kong). 2018 May-Aug;26(3):2309499018802486. doi: 10.1177/2309499018802486. PMID: 30295168.
Chachan S, Tudu B, Sahu B. Ultrasound monitoring of fracture healing: is this the end of radiography in fracture follow-ups? J Orthop Trauma. 2015 Mar;29(3):e133-8. doi: 10.1097/BOT.0000000000000207. PMID: 25233166.
Panigrahi R, Sahu B, Mahapatra AK, Palo N, Priyadarshi A, Biswal MR. Treatment analysis of paediatric femoral neck fractures: a prospective multicenter theraupetic study in Indian scenario. IntOrthop. 2015 Jun;39(6):1121-7. doi: 10.1007/s00264-015-2677-y. Epub 2015 Jan 29. PMID: 25631686.
Sahu B, Panigrahi R. Forearm gangrene following distraction injury at elbow in a neonate. Indian J Orthop. 2011 Sep;45(5):479-80. doi: 10.4103/0019-5413.83136. PMID: 21886935; PMCID: PMC3162690.