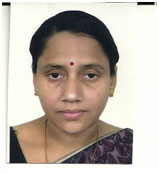 Dr. Dharitri Mohapatra
Associate Professor
Dr. Dharitri Mohapatra
Associate Professor
Email:

dr.dharitri@rediffmail.com
Permanent Address:

At-Purighat, Po-Telengabazar, Ps-Purighat, Dist-Cuttack, Pin-753009
Correspondence Address:

At-Purighat, Po-Telengabazar, Ps-Purighat, Dist-Cuttack, Pin-753009
| Course Name | Name of PG Degree | Area of Specialization/ Specialty | Year of Qualifying degree | Name of University / Institute |
| --- | --- | --- | --- | --- |
| MBBS | | | 1995 | Utkal university |
| PG Degree | MD (microbiology) | | 2005 | Utkal university |
| Post Doctoral Qualification | | | | |
| Other Qualification | | | | |
| Extraordinary Academic Achievements/ Awards, if any | | | | |
Mitra S, Chayani N, Mohapatra D, Barik MR, Sharma S, Basu S. High Prevalence of Biofilm-Forming MRSA in the Conjunctival Flora in Chronic Dacryocystitis. Semin Ophthalmol. 2019;34(2):74-79. doi: 10.1080/08820538.2019.1578382. Epub 2019 Feb 22. PMID: 30794029.
Mohapatra D, Sarangi G, Patro P, Paty BP, Chayani N, Mohanty DP. Chronic Osteomyelitis Due to Streptococcus Suis: First Case Report from India. J Glob Infect Dis. 2015 Apr-Jun;7(2):92-3. doi: 10.4103/0974-777X.154449. PMID: 26069434; PMCID: PMC4448336.
Majhi S, Dash M, Mohapatra D, Mohapatra A, Chayani N. Detection of inducible and constitutive clindamycin resistance among Staphylococcus aureus isolates in a tertiary care hospital, Eastern India. Avicenna J Med. 2016 Jul-Sep;6(3):75-80. doi: 10.4103/2231-0770.184066. PMID: 27390669; PMCID: PMC4922212
Sarangi G, Chayani N, Mahapatra A, Mahapatra D, Paty BP, Parida B. Bacteremia due to Rhodococcus equi–a case report. Indian J Pathol Microbiol. 2004 Oct;47(4):553-5. PMID: 16295396.
Mahapatra D, Sarangi G, Mahapatra A, Paty BP, Das P, Chayani N. NS1 Antigen Capture ELISA an Effective Method for Diagnosis of Early Dengue Infection – Report of an Outbreak at Angul District, Odisha, India. J Clin Diagn Res. 2014 Aug;8(8):DC08-10. doi: 10.7860/JCDR/2014/8589.4697. Epub 2014 Aug 20. PMID: 25302194; PMCID: PMC4190715.
Best paper Awards in Oral Presentation in IAPM, Odisha Chapter in 2004