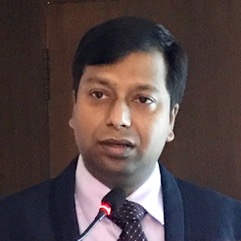 Dr. Soumyadarshan Nayak
Assistant Professor
DR SOUMYADARSHAN NAYAK
Assistant Professor
Email:

soumya_bapu@yahoo.co.in
Permanent Address:

PLOT NO.1501/B, SECTOR-6, CDA, CUTTACK-14
Correspondence Address:

PLOT NO.1501/B, SECTOR-6, CDA, CUTTACK-14
| Course Name | Name of PG Degree | Area of Specialization/ Specialty | Year of Qualifying degree | Name of University / Institute |
| --- | --- | --- | --- | --- |
| MBBS | | | 2002 | UTKAL UNIVERSITY |
| PG Degree | MD MEDICINE | GENERAL MEDICINE | 2007 | UTKAL UNIVERSITY |
| Post Doctoral Qualification | DM NEUROLOGY | NEUROLOGY | 2013 | RAJASTHAN UNIVERSITY OF HEALTH SCIENCES |
Sahoo LK, Mallick AK, Mohanty G, Swain KP, Nayak SD, Rout P. Study of Clinicoradiological profile and prognosis of longitudinally Extensive Transverse MyeliJs from a Single TerJary Center in Eastern India. Neurol India. 2020;68:1079- 83.
Sahoo L, Mallick AK, Mohanty G, Swain KP, Nayak S, Sahu AK. Concurrent intramedullary spinal cord and multiple intracranial tuberculomas with tuberculous optic neuritis: A rare case report. Indian J Tuberc. 2017 Oct;64(4):337-340. doi: 10.1016/j.ijtb.2016.10.007. Epub 2016 Dec 28. PMID: 28941861.
Swain SK, Nayak S, Ravan JR, Sahu MC. Tinnitus and its current treatment–Still an enigma in medicine. J Formos Med Assoc. 2016 Mar;115(3):139-44. doi: 10.1016/j.jfma.2015.11.011. Epub 2015 Dec 30. PMID: 26747828.
Nayak S, Parida M, Das SB, Padhi PK, Behera M, Patil A, Khurana A, Kumar Swain S. Clinical Characteristics and Management of Headache: A Real-Life Prospective, Observational Study From a Tertiary Care Center in Eastern India. Cureus. 2020 Dec 31;12(12):e12409. doi: 10.7759/cureus.12409. PMCID: PMC7779133.