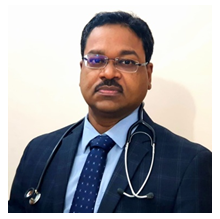 Dr. Subal Kumar Pradhan
Associate Professor
Dr.Subal Kumar Pradhan
Associate Professor
Email:

drsubal45@gmail.com
Permanent Address:

At/Po-Panchgaon (Belpahar),Dist: Jharsuguda
Correspondence Address:

SVP Post Graduate Institute of Pediatrics
| Course Name | Name of PG Degree | Area of Specialization/ Specialty | Year of Qualifying degree | Name of University / Institute |
| --- | --- | --- | --- | --- |
| MBBS | | | 1998 | VSS Medical College, Burla |
| PG Degree | MD | Pediatrics | 2003 | M.K.C.G Medical College, Berhampur |
| Post -Doctoral Qualification Post -Doctoral Qualification | Fellowship in Pediatric Nephrology (FPN) | Pediatric Nephrology | 2008 | St. John's Medical College, Bangalore |
| Post -Doctoral Qualification Post -Doctoral Qualification | Fellowship by Indian Society of Pediatric Nephrology (FISPN) | Pediatric Nephrology | 2010 | ISPN (Indian Society of Pediatric Nephrology) |
| Post -Doctoral Qualification Post -Doctoral Qualification | Advanced Fellowship in Pediatric Nephrology | Pediatric Nephrology | 2015 | McGill University of Health Science, Canada |
| Post -Doctoral Qualification Post -Doctoral Qualification | Visiting Fellowship in Pediatric Nephrology and Pediatric Renal Transplantation | Pediatric Nephrology | 2019 | Royal College of Pediatric and Child Health (RCPCH), UK |
Pradhan SK, Panigrahi S, Padhi PS, Sajeev A, Dharmaraj A, Reddy N S, Satpathy SK. Clinical Profile, Risk-Factors, and Outcome of Rotaviral Diarrhea and Non-rotaviral Diarrhea Among Under-Five Children at Cuttack, Odisha, India. Indian J Pediatr. 2021 Jan 4. doi: 10.1007/s12098-020-03598-0. Epub ahead of print. PMID: 33394294.
Pradhan SK, Sivaraj P, Das L, Swain A. Spectrum of clinico-pathological profile and treatment response in children with nephrotic immunoglobulin a nephropathy. Saudi J Kidney Dis Transpl. 2015 Jul-Aug;26(4):708-11. doi: 10.4103/1319-2442.160149. PMID: 26178542.
Sinha R, Banerjee S, Mukherjee A, Akhtar S, Pradhan S. Impact of rituximab on anthropometric indices among childhood steroid-dependent nephrotic syndromes. Arch Dis Child. 2020 Feb 21:archdischild-2019-318019. doi: 10.1136/archdischild-2019-318019. Epub ahead of print. PMID: 32086234.
Nair NP, Reddy N S, Giri S, Mohan VR, Parashar U, Tate J, Shah MP, Arora R, Gupte M, Mehendale SM; Investigators of the Rotavirus vaccine Impact Surveillance Network, Kang G. Rotavirus vaccine impact assessment surveillance in India: protocol and methods. BMJ Open. 2019 Apr 25;9(4):e024840. doi: 10.1136/bmjopen-2018-024840. PMID: 31028037; PMCID: PMC6502045.
Sinha R, Vasudevan A, Agarwal I, Sethi SK, Saha A, Pradhan S, Ekambaram S, Thaker N, Matnani M, Banerjee S, Sharma J, Singhal J, Ashraf S, Mandal K. Congenital Nephrotic Syndrome in India in the Current Era: A Multicenter Case Series. Nephron. 2020;144(1):21-29. doi: 10.1159/000503303. Epub 2019 Oct 25. PMID: 31655822.
Mutalik P, Pradhan S, Satapathy J, Swain A, Mohanty A. Clinicopathological correlation of biopsy proven Lupus Nephritis in children and treatment response with mycophenolate moefetil. Minerva Pediatr. 2016 Feb;68(1):70-2. Epub 2014 Jul 14. PMID: 25018082.
Reddy S, Nair NP, Giri S, Mohan VR, Tate JE, Parashar UD, Gupte MD, Arora R, Kang G; Indian Intussusception Surveillance Network. Safety monitoring of ROTAVAC vaccine and etiological investigation of intussusception in India: study protocol. BMC Public Health. 2018 Jul 20;18(1):898. doi: 10.1186/s12889-018-5809-7. PMID: 30029630; PMCID: PMC6053826.
Received IPNA travel grant in 2013
IPNA Fellowship in 2014
Co-Editor of a Book "Practical Procedure in Pediatric Nephrology" in 2017
Best paper award in state Pedicon 2018
RCPCH visiting Fellowship 2019