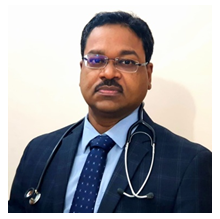 Dr. Subal Kumar Pradhan
Associate Professor
Dr.Subal Kumar Pradhan
Associate Professor
Email:

drsubal45@gmail.com
Permanent Address:

At/Po-Panchgaon (Belpahar),Dist: Jharsuguda
Correspondence Address:

SVP Post Graduate Institute of Pediatrics
| Course Name | Name of PG Degree | Area of Specialization/ Specialty | Year of Qualifying degree | Name of University / Institute |
| --- | --- | --- | --- | --- |
| MBBS | | | 1998 | VSS Medical College, Burla |
| PG Degree | MD | Pediatrics | 2003 | M.K.C.G Medical College, Berhampur |
| Post -Doctoral Qualification Post -Doctoral Qualification | Fellowship in Pediatric Nephrology (FPN) | Pediatric Nephrology | 2008 | St. John's Medical College, Bangalore |
| Post -Doctoral Qualification Post -Doctoral Qualification | Fellowship by Indian Society of Pediatric Nephrology (FISPN) | Pediatric Nephrology | 2010 | ISPN (Indian Society of Pediatric Nephrology) |
| Post -Doctoral Qualification Post -Doctoral Qualification | Advanced Fellowship in Pediatric Nephrology | Pediatric Nephrology | 2015 | McGill University of Health Science, Canada |
| Post -Doctoral Qualification Post -Doctoral Qualification | Visiting Fellowship in Pediatric Nephrology and Pediatric Renal Transplantation | Pediatric Nephrology | 2019 | Royal College of Pediatric and Child Health (RCPCH), UK |
Sinha R, Pradhan SK, Banerjee S. et al. "Whole-exome sequencing and variant spectrum in children with suspected inherited renal tubular disorder: the East India Tubulopathy Gen Study". Ped Nephrol 2022.
Natak S, Tripathy R, Pradhan SK. "Anti-Rituximab Antibodies in Idiopathic Nephrotic Children treated with Rituximab: A Prospective Single Centre Study". American J of Pediatrics 2021: 8(1); 23-29.
Sinha R, Banerjee S, Mukherjee A, Pradhan S, Akhtar S. Early Use of Rituximab in Calcineurin Inhibitor-
Refractory and Steroid-Resistant Nephrotic Syndrome. Kidney Int Rep. 2020 Oct 1;5(12):2354-2357. doi:
10.1016/j.ekir.2020.09.021. PMID: 33305130; PMCID: PMC7710833.
Sinha R, Vasudevan A, Agarwal I, Sethi SK, Saha A, Pradhan S, Ekambaram S, Thaker N, Matnani M, Banerjee S,Sharma J, Singhal J, Ashraf S, Mandal K. Congenital Nephrotic Syndrome in India in the Current Era: A Multicenter Case Series. Nephron. 2020;144(1):21-29. doi: 10.1159/000503303. Epub 2019 Oct 25. PMID:31655822.
Sinha R, Agrawal N, Xue Y, Chanchlani R, Pradhan S, Raina R, Marks SD. Use of rituximab in paediatric
nephrology. Arch Dis Child. 2021 Nov;106(11):1058-1065. doi: 10.1136/archdischild-2020-321211. Epub 2021, Jun 10. PMID: 34112638; PMCID: PMC8543203.
Sarkar S, Sinha R, Chaudhury AR, Maduwage K, Abeyagunawardena A, Bose N, Pradhan S, Bresolin NL, Garcia BA, McCulloch M. Snake bite associated with acute kidney injury. Pediatr Nephrol. 2020 Dec;36(12):3829-3840. doi: 10.1007/s00467-020-04911-x. Epub 2021 Feb 9. PMID: 33559706.
 Pradhan SK, Beriha SS. Focal segmental glomerulosclerosis associated with psoriasis. Saudi J Kidney Dis Transpl. 2014 May;25(3):670-1. doi: 10.4103/1319-2442.132234. PMID: 24821176.
Mutalik P, Pradhan S, Satapathy J, Swain A, Mohanty A. Clinicopathological correlation of biopsy proven Lupus Nephritis in children and treatment response with mycophenolate moefetil. Minerva Pediatr. 2016 Feb;68(1):70-2. Epub 2014 Jul 14. PMID: 25018082
Pradhan SK, Sivaraj P, Das L, Swain A. Spectrum of clinico-pathological profile and treatment response in children with nephrotic immunoglobulin a nephropathy. Saudi J Kidney Dis Transpl. 2015 Jul-Aug;26(4):708-11. doi: 10.4103/1319-2442.160149. PMID: 26178542.
Pradhan SK, Mutalik PP, Mohanty AK. Pattern of Steroid Resistance Nephrotic Syndrome (SRNS) in Children and the role of Histopathology– A single center study. South Afr J of Child Health2013; 7(4): 153-154. DOI:10.7196/sajch.607.
Nayak S, Pradhan SK. "Unilateral Orbital Cellulitis as the Initial Presenting Manifestation in a child with Lupus Nephritis". Asian J Pediatr Nephrolo 2021; 4:82-4.
Pradhan SK, Nayak S, Priyadarshini L. "Strategies for Prevention of Infection in Nephrotic Children". J Ped Nephrol 2021: 9(1);1-9.
Received IPNA travel grant in 2013
IPNA Fellowship in 2014
Co-Editor of a Book "Practical Procedure in Pediatric Nephrology" in 2017
Best paper award in state Pedicon 2018
RCPCH visiting Fellowship 2019