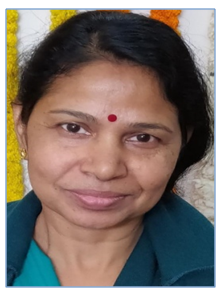 Dr. Sujata Pujari
Assistant Professor
Dr. Sujata Pujari
Assistant Professor
Email:

sujata.pujari[at]hotmail[dot]com
Permanent Address:

Susruta Hospital, Samanta Sahi, Canal Road, Cuttack
Correspondence Address:

Susruta Hospital, Samanta Sahi, Canal Road, Cuttack
| Course Name | Name of PG Degree | Area of Specialization/ Specialty | Year of Qualifying degree | Name of University / Institute |
| --- | --- | --- | --- | --- |
| MBBS | | | 1991 | Utkal University, SCB Medical College, Cuttack |
| PG Degree | M.D. | Pathology | 1997 | Sambalpur University, VSS Medical College, Burla |
| Post Doctoral Qualification | | | | |
Hota D, Pujari S, Choudhuri S, Panda S. Isolated Renal Hydatidosis Presenting as Renal Mass: A Diagnostic Dilemma. Urol Case Rep. 2015 Apr 27;3(4):103-5. doi: 10.1016/j.eucr.2015.04.002. PMID: 26793518; PMCID: PMC4672653.
Tripathy K, Misra A, Misra D, Pujari S, Nayak M, Rath J. Melanotic choroid plexus carcinoma of the posterior fossa. J Clin Neurol. 2011 Jun;7(2):105-6. doi: 10.3988/jcn.2011.7.2.105. Epub 2011 Jun 28. PMID: 21779301; PMCID: PMC3131537.
Dash K, Dash A, Pujari S, Das B, Devi K, Mohanty R. Bilateral mycotic cerebral abscess due to aspergillosis–a case report. Indian J PatholMicrobiol. 2006 Oct;49(4):555-7. PMID: 17183852.
Mishra A, Tripathi K, Mohanty L, Pujari S. Philadelphia chromosome positive chronic myelogenous leukemia in a child: a case report. Indian J Hematol Blood Transfus. 2010 Sep;26(3):109-10. doi: 10.1007/s12288-010-0042-2. Epub 2010 Oct 2. PMID: 21886396; PMCID: PMC3002092.