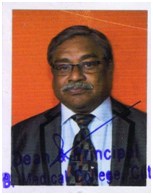 Dr. Tanmoy Mohanty
ASSOCIATE PROFESSOR
DR TANMOY MOHANTY
ASSOCIATE PROFESSOR
Email:

Mohantytanmoydr@gmail.com
Permanent Address:

BURDWAN COMPOUND,PO-COLLEGE SQUARE,CUTTACK-753003
Correspondence Address:

ASSOCIATE PROFESSOR ,DEPARTMENT OF ORTHOPAEDICS, SCBMCH-753007
| Course Name | Name of PG Degree | Area of Specialization/ Specialty | Year of Qualifying degree | Name of University / Institute |
| --- | --- | --- | --- | --- |
| MBBS | | | 1978 | UTKAL UNIVERSITY/SCBMCH |
| PG Degree | ORTHOPAEDICS (MS) | ORTHOPAEDICS | 1984 | UTKAL UNIVERSITY/SCBMCH |
| Post Doctoral Qualification | | | | |
Jain G, Lenka S, Chandra M, Mohanty T. Higher rates of Achilles tenotomy after a didactic session on Ponseti method. Arch Bone Jt Surg. 2020 Jul;8(4):550-552. doi: 10.22038/abjs.2020.45995.2258. PMID: 32884978; PMCID: PMC7443064.
Kumar Panigrahi T, Das A, Mohanty T, Samanta S, Kumar Mohapatra S. Study of relationship of posterior tibial slope in anterior cruciate ligament injury. J Orthop. 2020 Sep 11;21:487-490. doi: 10.1016/j.jor.2020.08.032. PMID: 32999535; PMCID: PMC7501475.
Sethi AK, Kar IB, Mohanty T, Mishra N, Singh AK. Use of plasma-enriched demineralized freeze-dried bone matrix in postsurgical jaw defects. Natl J Maxillofac Surg. 2018 Jul-Dec;9(2):174-183. doi: 10.4103/njms.NJMS_33_18. PMID: 30546232; PMCID: PMC6251303.