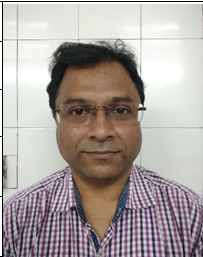 Dr. Bijay Kumar Pattnaik
Asst. Professor
Bijay Kumar Pattnaik
Asst. Professor
Email:

p.drbijay@gmail.com
Permanent Address:

SB-23, SRI RESIDENCY, NEAR DURGA MANDAP, BOMIKHAL, BHUBANESWAR
Correspondence Address:

SB-23, SRI RESIDENCY, NEAR DURGA MANDAP, BOMIKHAL, BHUBANESWAR
| Course Name | Name of PG Degree | Area of Specialization/ Specialty | Year of Qualifying degree | Name of University / Institute |
| --- | --- | --- | --- | --- |
| MBBS | | | 1999 | SAMBALPUR UNIVERSITY |
| PG Degree | MS | OPHTHALMOLOGY | 2008 | UTKAL UNIVERSITY |
| Post Doctoral Qualification | SHORT TERM IOL FELLOWSHIP | | 2008 | KGH HOSPITAL , COIMBATORE |
OPHTHALMOMYIASIS- A RARE CASE REPORT.IP JOURNAL OF DIAGNOSTIC PATHOLOGY AND ONCOLOGY.
POLYCYTHEMIA VERA PRESENTING WITH BILATERAL PAPILLEDEMA-A RARE CASE REPORT.IJO
NEUROMYELITIS OPTICA SPECTRUM DISORDER AND OPTIC NEURITIS-A REPORT OF 3 CASES.
BEST POSTER AWARD IN EIZOC CONFERENCE 2019.
BEST POSTER AWARD IN ACION CONFERENCE 2020.
PASSED BASIC COURSE IN BIO-MEDICAL RESEARCH.