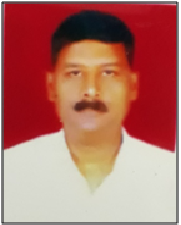 Dr. Amiya Kumar Gouda
Asst. Professor
Dr. Amiya Kumar Gouda
Asst. Professor
Email:

dr_amiya@yahoo.com
Permanent Address:

KHARIGUDA, SORADA, SARABADI, GANJAM
Correspondence Address:

TOWER-4,704, Z-1, NANDANKANAN ROAD, C.S.PUR, BHUBANESWAR
| Course Name | Name of PG Degree | Area of Specialization/ Specialty | Year of Qualifying degree | Name of University / Institute |
| --- | --- | --- | --- | --- |
| MBBS | | | 1988 | MKCGMCH Berhampur University |
| PG Degree | M.S. | General Surgery | 2001 | MKCGMCH Berhampur University |
| Post Doctoral Qualification | M.Ch. | Neurosurgery | 2006 | SCBMC, Cuttack Utkal University |
| Other Qualification | | | | |
| Extraordinary Academic Achievements/ Awards, if any | | | | |
Senapati SB, Parida DK, Pattajoshi AS, Gouda AK, Patnaik A. Primary hydatid cyst of brain: Two cases report. Asian J Neurosurg. 2015 Apr-Jun;10(2):175-6. doi: 10.4103/1793-5482.152109. PMID: 25972961; PMCID: PMC4421967.
Tripathy K, Misra A, Gouda AK, Das S, Das B. Primary intraspinal ganglioneuroblastoma of the thoracic spine: a rare case report. Indian J Pathol Microbiol. 2012 Oct-Dec;55(4):535-7. doi: 10.4103/0377-4929.107805. PMID: 23455798.
Mishra SS, Senapati SB, Gouda AK, Behera SK, Patnaik A. Spontaneous extradural and subgaleal hematoma: A rare neurosurgical crisis of sickle cell disease. Asian J Neurosurg. 2017 Jan-Mar;12(1):47-50. doi: 10.4103/1793-5482.144177. PMID: 28413532; PMCID: PMC5379803.