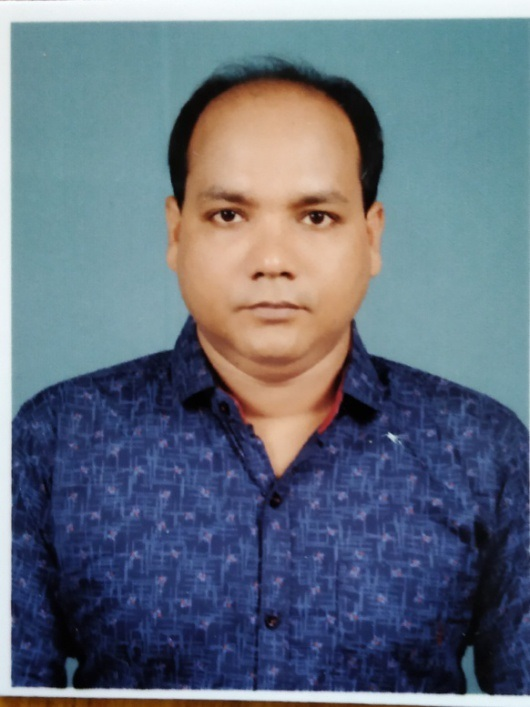 Dr. Binay Bhusan Sahoo
Asst. Professor
DR. BINAY BHUSAN SAHOO
Asst. Professor
Email:

drbinay83@gmail.com
Permanent Address:

AT/POST – RASALPUR, DIST –BALASORE PIN-756021
Correspondence Address:

VIIM-25, PHASE-II, TULSI VIHAR ROAD ,SAILESHREE VIHAR, BHUBANESWAR, KHURDHA PIN- 751021
| Course Name | Name of PG Degree | Area of Specialization/ Specialty | Year of Qualifying degree | Name of University / Institute |
| --- | --- | --- | --- | --- |
| MBBS | | | 2007 | VSS Medical College/ sambalpur University |
| PG Degree | Transfusion Medicine | | 2017 | SCB Medical College / Utkal University |
| Post Doctoral Qualification | | | | |
Sahoo BB, Mahapatra S, Mishra S, Mishra D, Panigrahy R and Parida P. Prevalence of Red Cell Alloantibodies in Pregnant Women. Haematol Int J 2020, 4(1): 000154. (10.23880/hij-16000154)
SahuA, ParidaP, MahapatraS, SahooBB.Detection of red cell alloantibodies in thalassemia patients. Int J Contemp Pediatr 2020;7:419-23.
Mishra D, Parida P, Mahapatra S, Sahoo BB. Resolving blood group discrepancy in patients of the tertiary care center in Odisha, India. Int J Res Med Sci 2018;6:2348-53. (DOI: http://dx.doi.org/10.18203/2320-6012.ijrms20182815)
Mahapatra S, Sahoo BB , Ray GK , Mishra D, Panigrahi R, Parida  DISCARD OF BLOOD AND BLOOD COMPONENTS WITH STUDY OF CAUSES – A GOOD MANUFACTURE PRACTICE. wjpmr 2017;3(2): 172-175
Mahapatra S, Mishra D, Sahoo D, Sahoo BB. Study of Prevalence of A2, A2B along with major ABO Blood Groups to minimize the transfusion reactions. International Journal of Scientific Research 2016;5(3):189-90. (DOI : 10.36106/ijsr)
Mahapatra S, Mishra D, Ray GK , Sahoo BB , Panigrahi R,  Patjoshi S. Analysis Of The Causes And Study Of Frequency Of Donor Deferral For Blood Donation. IOSR Journal of Dental and Medical Sciences 2016;15(9):122-124. (DOI: 10.9790/0853-150909122124).