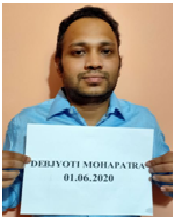 Dr. Debjyoti Mohapatra
Assistant Professor
Dr. Debjyoti Mohapatra
Assistant Professor
Email:

drdebjyoti@gmail.com
Permanent Address:

Plot no-94/1350, Sub-plot-140, Sainik Nagar, Kesura, Bhubaneswar
Correspondence Address:

Plot no-94/1350,Sub-plot-140,Sainik Nagar,Kesura, Bhubaneswar
| Course Name | Name of PG Degree | Area of Specialization/ Specialty | Year of Qualifying degree | Name of University / Institute |
| --- | --- | --- | --- | --- |
| MBBS | | | 2009 | Berhampur university/MKCG Medical college |
| PG Degree | MD | Community Medicine | 2016 | Pt B.D Sharma university of health sciences/PGIMS,Rohtak |
Sarkar DF, Mishra N, Samal D, Pati D, Kar IB, Mohapatra D, Mishra A. Locking versus non-locking plating system in the treatment of mandibular fractures: A randomized comparative study. J Craniomaxillofac Surg. 2021 Mar;49(3):184-190. doi: 10.1016/j.jcms.2021.01.006. Epub 2021 Jan 17. PMID: 33516587.
Mohapatra D, Bhatia V, Singh AK. Assessment of clinical and behavioral profile of clients attending integrated counseling and testing centers of a tertiary care institute in Eastern India: A secondary data analysis. Indian J Sex Transm Dis AIDS. 2020 Jul-Dec;41(2):149-155. doi: 10.4103/ijstd.IJSTD_40_19. Epub 2020 Nov 11. PMID: 33817586; PMCID: PMC8000672.
Mehta B, Kumar V, Chawla S, Sachdeva S, Mahopatra D. Hypertension in Pregnancy: A Community-Based Study. Indian J Community Med. 2015 Oct-Dec;40(4):273-8. doi: 10.4103/0970-0218.164403. PMID: 26435602; PMCID: PMC4581149.
Awarded 2ndbest prize, for poster titled "A study on needle stick injury among nursing staff of a tertiary care hospital" at 2nd International conference on occupational and environmental health held at New Delhi in September 2014.
Awarded 2ndprize for poster titled "Awareness among junior residents regarding management of animal bite in a tertiary care centre in Rohtak, Haryana" at CARCON,2014.
Certified Cause of Death coder of MiNnerva network (Mortality in India established through Verbal autopsies, AIIMS New Delhi).