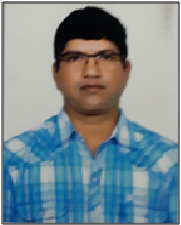 Dr. Deepak Das
Asst. Professor
Dr. Deepak Das
Asst. Professor
Email:

docdpk@gmail.com
Permanent Address:

KALARAHANGA, KIIT, BHUBANESWAR - 24
Correspondence Address:

FLAT NO- 241, SILVERLINING APARTMENT, MISSION ROAD, BUXIBAZAR, CUTTACK - 753001
| Course Name | Name of PG Degree | Area of Specialization/ Specialty | Year of Qualifying degree | Name of University / Institute |
| --- | --- | --- | --- | --- |
| MBBS | | | 1998 | SCBMC, Cuttack Utkal University |
| PG Degree | M.S. | General Surgery | 2010 | SCBMC, Cuttack Utkal University |
| Post Doctoral Qualification | M.Ch. | Neurosurgery | 2015 | SCBMC, Cuttack Utkal University |
| Other Qualification | | Fellowship in Functional Neurosurgery Trained in Neuroendoscopy at Jabalpur Trained in Microneurosurgery at AIIMS, New Delhi | | |
| Extraordinary Academic Achievements/ Awards, if any | | | | |
Tripathy SR, Swarnakar PK, Mishra S, Mishra SS, Dhir MK, Behera SK, Nath PC, Jena SP, Mohanta I, Das D, Satapathy MC, Rout SK, Behera BR, Parida DK, Rath TS. A review of sub acute subdural hematoma (SASDH) with our institutional experience and its management by double barrel technique (DbT): A novel technique. Surg Neurol Int. 2016 Nov 9;7(Suppl 28):S767-S774. doi: 10.4103/2152-7806.193730. PMID: 27904759; PMCID: PMC5114857.
Mishra SS, Das S, Behera SK, Senapati SB, Das D. Modified French door laminoplasty using autologous spinous process as interlaminar spacer. Neurol India. 2014 Mar-Apr;62(2):226-7. doi: 10.4103/0028-3886.132449. PMID: 24823753.
Mishra SS, Das D, Das S, Mohanta I, Tripathy SR. Spinal cord compression due to primary intramedullary tuberculoma of the spinal cord presenting as paraplegia: A case report and literature review. Surg Neurol Int. 2015 Mar 23;6:42. doi: 10.4103/2152-7806.153844. PMID: 25883834; PMCID: PMC4392528.
Mishra SS, Panigrahi S, Das D. Giant aneurysmal bone cyst of cervical spine: Surgical management and circumferential spinal fusion in a 13-year-old girl. J Pediatr Neurosci. 2014 May;9(2):196-9. doi: 10.4103/1817-1745.139369. PMID: 25250087; PMCID: PMC4166854.
Mishra SS, Panigrahi S, Satpathy PC, Das D. Intraorbital arteriovenous fistula with thrombosed varix: Diagnosis and treatment without catheter angiography in a developing country. Surg Neurol Int. 2013 Aug 23;4:107. doi: 10.4103/2152-7806.116926. PMID: 24032082; PMCID: PMC3768297.
Behera BR, Mishra S, Das D, Gantayat R. Evisceration of Brain: An Unusual Case Report of Bear Mauling from Eastern India. Asian J Neurosurg. 2017 Oct-Dec;12(4):724-726. doi: 10.4103/ajns.AJNS_31_15. PMID: 29114294; PMCID: PMC5652106.
Tripathy SR, Mishra SS, Deo RC, Mohanta I, Das D, Satapathy MC. Trochlear Nerve Neurofibroma in a Clinically NF-1-Negative Patient; A Case Report and Review of Literature. World Neurosurg. 2016 May;89:732.e13-8. doi: 10.1016/j.wneu.2016.01.097. Epub 2016 Feb 16. PMID: 26893044.