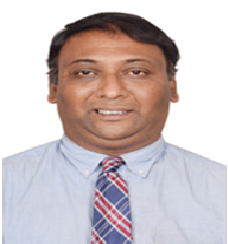 Dr. Devi Kalyan Mishra
Associate Professor
Dr. Devi Kalyan Mishra
Associate Professor
Email:

Devi.Kalyan78@Gmail.Com
Permanent Address:

Flat No – 003, Jadukula Enclave, Mahatab Road, Cuttack
Correspondence Address:

Department Of Community Medicine, S.C.B Medical College, Cuttack.
| Course Name | Name of PG Degree | Area of Specialization/ Specialty | Year of Qualifying degree | Name of University / Institute |
| --- | --- | --- | --- | --- |
| MBBS | | | 2003 | SCB Medical College & Hospital, Cuttack / Utkal University |
| PG Degree | MD | Community Medicine | 2013 | SCB Medical College & Hospital, Cuttack / Utkal University |
| Post Doctoral Qualification | | | | |
Mishra Devi Kalyan, Kar Krishna, Panda Manasee (2013, Oct). Prevalence of Risk Factors for Cardiovascular diseases among Adults in a slum area of Cuttack City, Odisha-Journal Academia of Industrial Research (JAIR), Vol 2, Issue 5, October 2013.
Mishra Devi Kalyan (2016,Feb). Bioterrorism from a Public Health Perspective. Counter Terrorist Trends and Analysis,2016, Feb;2(ISSN2382-6444):24-30.
Das AK, Mishra. S, Mishra DK and Gopalan SS. (2020, Nov). Machine learning to predict 5-year Survival among Pediatric Acute Myeloid Leukemia patients and development of OSPAM-C online Survival Tool. Journal of Quality in Health Care and Economics, 3(6 ), 1-8.
Mishra Devi Kalyan & Tripathy Nalinikanta. (2019, April). Use of Twitter Application as an Emerging Tool for Creating Awareness and Advocacy for Public Health Diseases: A Study on Mental Health Issues in India. ASEAN Journal of Psychiatry, 20(1),(18-24).
Mishra DK, Triathy NK, Mahanty B, Buda B, Behera MK(2020,Jan). To Study Smoking Violations through global positioning system-enabled mobile app, in Bhubaneswar, Odisha. Indian J Community Med 2020;45(1):66-71.
Das A, Mishra DK, Gopalan SS. Effect of Intravesical Chemotherapy on the Survival of Patients with Non-Muscle Invasive Bladder Cancer Undergoing Transurethral Resection: A Retrospective Cohort Study Among Older Adults. TOUNJ.2021; 14(20).
Das A, Mishra DK, Gopalan SS. Prevalence and Predictors of Influenza Vaccination Among Adults with High-Risk Conditions, United States, 2019.J Health Care and Research.2021Aug 02:2(3):137-45.
Das A, Mishra DK, Gopalan SS. Survival Prediction for Bladder Cancer using Machine Learning BlaCaSurv online survival prediction application. medRxiv.20220
Das A, Mishra DK, Gopalan SS. Reduced Access to Care among Older American Adults during the CoVID-19 Pandemic: results from a prospective cohort study. J Clin Images Med Case Rep. 2021; 2(4): 1240.