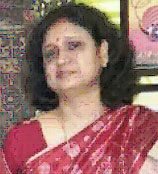 Dr. Haribhakti Seba Das
Associate Professor
Dr. HaribhaktiSeba Das
Associate Professor
Email:

hbsrho@yahoo.co.in
Permanent Address:

Balikuda,Gopalpur,Cuttack-753011
Correspondence Address:

Dept. of Gastroenterology, SCB Medical College, Cuttack-753007
| Course Name | Name of PG Degree | Area of Specialization/ Specialty | Year of Qualifying degree | Name of University / Institute |
| --- | --- | --- | --- | --- |
| MBBS | | | 1990 | MKCG Medical College, Berhampur |
| PG Degree | MD | Medicine | 1996 | MKCG Medical College, Berhampur |
| Post Doctoral Qualification | DM | Gastroenterology | 2000 | LokmanyaTilak Municipal Medical College, Mumbai, Maharashtra |
Narayan J, Das HS, Nath P, Singh A, Mishra D, Padhi PK, Singh SP. Endothelial Dysfunction, a Marker of Atherosclerosis, Is Independent of Metabolic Syndrome in NAFLD Patients. Int J Hepatol. 2020 Jul 17;2020:1825142. doi: 10.1155/2020/1825142. PMID: 32724678; PMCID: PMC7382713.
Pati GK, Singh A, Misra B, Misra D, Das HS, Panda C, et al. Acute-on-Chronic Liver Failure (ACLF) in Coastal Eastern India: "A Single-Center Experience." Journal of Clinical and Experimental Hepatology. 2016 Mar 1;6(1):26–32.
Das HS, Panda C, Padhi S, Singh SP. Endoscopic diagnosis of a case of malignant melanoma. Trop Gastroenterol. 2012 Oct-Dec;33(4):296-7. doi: 10.7869/tg.2012.78. PMID: 23923362.
Singh SP, Panigrahi MK, Misra D, Misra B, Kaar SK, Panda CR, Das HS, et al. Barium emesis during barium enema study: a definitive sign of gastrojejunocolic fistula. Trop Gastroenterol. 2013 Dec;34(4):273–4.
Panigrahi R, Biswas A, Banerjee A, Singh SP, Panigrahi MK, Roque-Afonso AM, Das HS, et al. Subgenotype D5, BCP and MHR mutations in hepatic complications among hepatitis B virus infected patients from Orissa, India. Infect Genet Evol. 2012 Dec;12(8):1622–9.