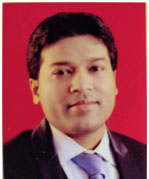 Dr. Jyoti Prakash Sahoo
Assistant Professor
Dr. Jyoti Prakash Sahoo
Assistant Professor
Email:

drjp1111@gmail.com
Permanent Address:

6/A2-03, Hitech heaven, Matiapada, Po- Siula, Ps- Pipili, Dist- Puri, Odisha, Pincode- 752104
Correspondence Address:

6/A2-03, Hitech heaven, Matiapada, Po- Siula, Ps- Pipili, Dist- Puri, Odisha, Pincode- 752104
| Course Name | Name of PG Degree | Area of Specialization/ Specialty | Year of Qualifying degree | Name of University / Institute |
| --- | --- | --- | --- | --- |
| MBBS | | | 2010 | Dibrugarh University |
| PG Degree | MD | Pharmacology | 2016 | Pt. BDS University of Health Sciences, Rohtak |
| Post Doctoral Qualification | | | | |
Hota D, Srinivasan A, Sahoo JP, Behera KK, Patro BK, Bandyopadhyay D, et al. Possible anti-diabetic and anti-hyperlipidemic efficacy of blended rice bran oil with sesame oil in comparison with soybean oil: a clinical investigation in pre-diabetic and diabetic individuals. J Clin Trials. 2020;10:419. doi: 10.35248/2167-0870.20.10.419.
Sahoo JP, Singh J, Khurana H. Effect of omega-3 fatty acids versus 5- hydroxytryptophan as add on therapy to sertraline in controlling suicidal ideation in patients with depression: A comparative study. Int J Pharmacol Research. 2016; 6(4). 152-6. doi: 10.7439/ijpr.
Meher BR, Mohanty RR, Sahoo JP, Jena M, Srinivasan A, Padhy BM. Comparative Study of the Effects of Azilsartan and Telmisartan on Insulin Resistance and Metabolic Biomarkers in Essential Hypertension Associated With Type 2 Diabetes Mellitus. Cureus. 2022 Feb 16;14(2):e22301. doi: 10.7759/cureus.22301. PMID: 35350513; PMCID: PMC8933292.