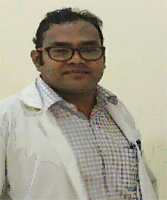 Dr. Kaibalya Ranjan Dash
Assistant Professor
Dr. Kaibalya Ranjan Dash
Assistant Professor
Email:

Kaibalyaranjandash10@gmail.com
Permanent Address:

C/O- Dr Kaibalya Ranjan Dash AT/P.O.- Binjharpur Dist,- Jajpur PIN no.- 755004
Correspondence Address:

C/O- Sudarshan Lenka AT- Lenka Sahi, Bidyadharpur P.O.- Nayabazar, Dist- Cuttack PIN no.-753004
| Course Name | Name of PG Degree | Area of Specialization/ Specialty | Year of Qualifying degree | Name of University / Institute |
| --- | --- | --- | --- | --- |
| MBBS | | | 2009 | Berhampur university/MKCG Medical College,Berhampur |
| PG Degree | MD | General Medicine | 2014 | Berhampur university/MKCG Medical College,Berhampur |
| Post Doctoral Qualification | DM | Gastroenterology | 2018 | Utkal University/SCB Medical College , Cuttack |
Dash KR, Meher LK, Hui PK, Behera SK, Nayak SN. High Incidence of Zidovudine Induced Anaemia in HIV Infected Patients in Southern Odisha. Indian J Hematol Blood Transfus. 2015 Jun;31(2):247-50. doi: 10.1007/s12288-014-0426-9. Epub 2014 Sep 28. PMID: 25825566; PMCID: PMC4375155.
Parida PK, Mishra D, Pati GK, Nath P, Dash KR, Behera SK, et al. A prospective study on incidence, risk factors, and validation of a risk score for post-infection irritable bowel syndrome in coastal eastern India. Indian J Gastroenterol. 2019 Apr;38(2):134–42.
Mishra D, Dash KR, Khatua CR, Panigrahi S, Parida PK, Behera SK, Barik RK, Pradhan S, Sahu SK, Thakur B, Singh SP. A Study On The Temporal Trends in the Etiology of Cirrhosis of Liver In Coastal Eastern Odisha. Euroasian J Hepatogastroenterol. 2020;10(1):1–6.