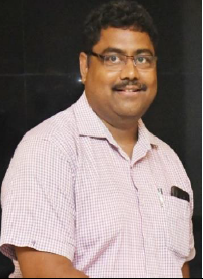 Dr. Kali Prasanna Swain
Associate Professor
Dr KALI PRASANNA SWAIN
Associate Professor
Email:

Kali.swain@gmail.com
Permanent Address:

Plot No. 374,Pradhan Sahi, Baramunda, Bhubaneswar.
Correspondence Address:

At-C-1,ISO1Compound,Kanika Chak, Tulasipur, Cuttack.
| Course Name | Name of PG Degree | Area of Specialization/ Specialty | Year of Qualifying degree | Name of University / Institute |
| --- | --- | --- | --- | --- |
| MBBS | | | 1998 | Utkal University/SCB Medical College,Cuttack |
| PG Degree | MD | General Medicine | 2010 | Berhampur University/MKCG Medical College, Berhampur |
| Post Doctoral Qualification | DM | Neurology | 2011 | PGIMER Chandigarh |
Sahoo LK, Mallick AK, Swain KP, Mohanty G, Samanta M, Mohanty BK. The "Mexican Hat" Sign in Osmotic Demyelination Syndrome. J Assoc Physicians India. 2017 May;65(5):88. PMID: 28598055.
Sahoo LK, Mallick AK, Mohanty G, Swain KP, Sahoo SK. Hemichorea Secondary to Non-Ketotic Hyperglycemia as the Presenting Manifestation of Diabetes Mellitus. J Assoc Physicians India. 2020 Feb;68(2):82-83. PMID: 32009370.
Sahoo LK, Mallick AK, Mohanty G, Swain KP, Nayak SD, Rout P. Study of Clinicoradiological profile and prognosis of longitudinally Extensive Transverse Myelitis from a Single TerJary Center in Eastern India. Neurol India. 2020;68:1079- 83.
Sahoo L, Mallick AK, Mohanty G, Swain KP, Nayak S, Sahu AK. Concurrent intramedullary spinal cord and multiple intracranial tuberculomas with tuberculous optic neuritis: A rare case report. Indian J Tuberc. 2017 Oct;64(4):337-340. doi: 10.1016/j.ijtb.2016.10.007. Epub 2016 Dec 28. PMID: 28941861.
Swain TR, Jena RK, Swain KP. High dose Intravenous Anti-D Immune Globulin is More Effective and Safe in Indian Paediatric Patients of Immune Thrombocytopenic Purpura. J ClinDiagn Res. 2016 Dec;10(12):FC12-FC15. doi: 10.7860/JCDR/2016/20347.8976. Epub 2016 Dec 1. PMID: 28208873; PMCID: PMC5296446.