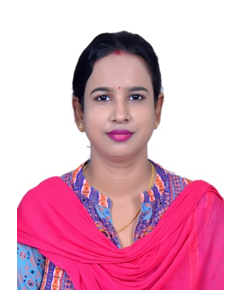 Dr. Krishna Arpita Sahoo
Asst. Professor
Dr. Krishna Arpita Sahoo
Asst. Professor
Email:

drkrishna52@gmail.com
Permanent Address:

Plot no.5501/1078, Nuagaon, Sampur, At P/O-Ghatikia, Khandagiri, Bhubaneswar-751030
Correspondence Address:

Quarter no.3b,Chiranjeebi Apartment, Kathogolasahi, Mangalabagh Cuttack-753003
| Course Name | Name of PG Degree | Area of Specialization/ Specialty | Year of Qualifying degree | Name of University / Institute |
| --- | --- | --- | --- | --- |
| MBBS | | | 2011 | V.S.S Medical College Sambalpur University |
| PG Degree | M.S. | E.N.T | 2015 | S.C.B Medical College Utkal University |
1. Hyadatid cyst of submandibular gland.International Journal of Current Research 2017:787-790
2. Bilateral total aplasia of paranasal sinuses.ClinRhinol An Int J 2015;8(3):124-126
3. Management of Eagle's Syndrome.Int.J.Adv.Res.2017;5(8):1192-1196
4. A Rare Case Report of a Whole Fish Removal from Oropharynx.American Journal of Medical Case Reports,2017;5(4), 107-109
5. Lipoma of tongue at a rare location: case report.Paripex – indian journal of research 2017;6(12 ):15-16
6. Monomorphic adenoma of base of tongue- a rare case report & review of literature.Medical Science 2017;21(88): 322-328
7. Evaluation and Management of cystic swellings of Neck in a tertiary care hospital-Case Study. Paripex – indian journal of research 2018;7(5):135-138
8. A comparative study on use of non-absorbable sponge alone versus non-absorbable sponge along with waxplate as intranasal splints in nasal surgeries.Globe Journal Of Research Analysis 2018;7(8):104-105
9. Broken synthetic tracheostomy tubes presenting as a foreign body in airways – Rare Case Series & Review of the literature. Medical Science, 2017;21(88):287-293
10. A huge osteoma of paranasal sinuses-case report .International Journal of Current Research 2017; 9(5):514-517
11. Duplicationofrecurrentlaryngealnerveinthyroidsurgery–arareanatomical variation.J Oral Med, Oral Surg, Oral Pathol, Oral Radiol 2020;6(2):85-88
12.
Managementof tracheo-bronchialforeignbodiesatatertiarycarehospitalin EasternpartofIndia. IP Indian J ImmunolRespir Med 2020;5(2):119-126.
2nd Prize in Paper presentation at Annual State Conference of Otolaryngology,2013
Best dissector award in Hands on Cadaveric dissection at D.Y.Patil Medical College, Mumbai,2016
2nd Prize in Paper presentation at Annual Conference of Neuro-Otological&Equillibriometric society of India, 2017
Hands on dissection in International Symposium on Cochlear Implants, Medanta hospital, Gurgaon, 2017
3rd Prize in Quiz competition at Annual Conference of All India Rhinology Society, AIIMS,BBSR, 2018