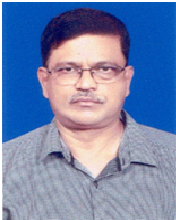 Dr. Nirmal Kumar Mohanty
Associate Professor
Dr. Nirmal Kumar Mohanty
Associate Professor
Email:

diptinirmal.pattnaik@gmail.com
Permanent Address:

At/Po - Balkati,PS –Balianta , Dist – Khorda ,Pin – 752100 , Odisha
Correspondence Address:

Flat No. – B 053 , Cosmopolis Apartment, Dumduma , Khandagiri , BBSR , khorda – 751019 ,Odisha
| Course Name | Name of PG Degree | Area of Specialization/ Specialty | Year of Qualifying degree | Name of University / Institute |
| --- | --- | --- | --- | --- |
| MBBS1985 | | | 1985 | MKCG Medical college , Berhampur University |
| PG Degree | MD | General Medicine | 1990 | MKCG Medical college , Berhampur University |
| Post Doctoral Qualification | DM | Cardiology | 1996 | Utkal University |
Mishra TK, Rath PK, Mohanty NK, Mishra SK. Left ventricular systolic and diastolic dysfunction and their relationship with microvascular complications in normotensive, asymptomatic patients with type 2 diabetes mellitus. Indian Heart J. 2008 Nov-Dec;60(6):548-53. PMID: 19276494.
Mishra TK, Mohanty NK, Mishra SK, Rath PK. Myocardial dysfunction in rheumatic carditis–does it really exist? J Assoc Physicians India. 2007 Apr;55:276-80. PMID: 17694787.
Mishra TK, Mishra SK, Mohanty NK, Rath PK. Prevalence, prognostic importance and therapeutic implications of anemia in heart failure. Indian Heart J. 2005 Nov-Dec;57(6):670-4. PMID: 16521636.