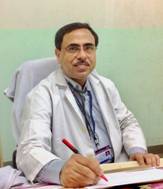 Dr. Pravakar Mishra
Professor & HOD
Dr. Pravakar Mishra
Professor & HOD
Email:

drpravakar@yahoo.co.in , drpmishra61@gmail.com
Permanent Address:

1456B,Sector6,CDA,MarkatNagar,Cuttack-753014, Odisha.
Correspondence Address:

1456B,Sector6,CDA,MarkatNagar,Cuttack-753014, Odisha.
| Course Name | Name of PG Degree | Area of Specialization/ Specialty | Year of Qualifying degree | Name of University / Institute |
| --- | --- | --- | --- | --- |
| MBBS | | | 1984 | BERHAMPUR, MKCG Medical College |
| PG Degree | MD | PEDIATRICS | 1990 | BERHAMPUR, MKCG Medical College. |
Tripathy SK, Mishra P, Dwibedi B, Priyadarshini L, Das RR. Clinico-epidemiological Study of Viral Acute Encephalitis Syndrome Cases and Comparison to Nonviral Cases in Children from Eastern India. J Glob Infect Dis. 2019 Jan-Mar;11(1):7-12. doi: 10.4103/jgid.jgid_26_18. PMID: 30814829; PMCID: PMC6380098.
Mishra P, Mishra S, Agarwalla SK, Mohanty N, Das RR. An Adolescent with Extensive Cutaneous Sarcoidosis without Lung Involvement. Indian J Pediatr. 2017 Jun;84(6):479-480. doi: 10.1007/s12098-017-2309-1. Epub 2017 Feb 18. PMID: 28213883.
Mishra P, Nayak L, Das RR, Dwibedi B, Singh A. Viral Agents Causing Acute Respiratory Infections in Children under Five: A Study from Eastern India. Int J Pediatr. 2016;2016:7235482. doi: 10.1155/2016/7235482. Epub 2016 Nov 27. PMID: 28018433; PMCID: PMC5149672.
Mishra P, Panda SS, Tripathy M, Panda M, Das RR. Infantile cortical hyperostosis: two cases with varied presentations. J Clin Diagn Res. 2014 Oct;8(10):PJ01-2. doi: 10.7860/JCDR/2014/9077.4945. Epub 2014 Oct 20. PMID: 25478424; PMCID: PMC4253242.
Meher BK, Mishra P, Sivaraj P, Padhan P. Severe calcinosis cutis with cutaneous ulceration in juvenile dermatomyositis. Indian Pediatr. 2014 Nov;51(11):925-7. doi: 10.1007/s13312-014-0531-8. PMID: 25432230.
Mishra P, Sirka CS, Das RR, Nanda D. Secondary acrodermatitis enteropathica-like lesions in a child with newly diagnosed coeliac disease. Paediatr Int Child Health. 2016 Feb;36(1):72-5. doi: 10.1179/2046905514Y.0000000168. Epub 2014 Dec 26. PMID: 25540873.
Rao R, Dhingra MS, Bavdekar S, Behera N, Daga SR, Dutta AK, Kundu R, Maiya P, Mishra P, Shah R, Shuba S, Tibrewala V, Pandhi S, Rajamani AM. A comparison of immunogenicity and safety of indigenously developed liquid (DTwPHB-Hib) pentavalent combination vaccine (Shan 5) with Easyfive (liq) and TritanrixHB + Hiberix (lyo) in Indian infants administered according to the EPI schedule. Hum Vaccin. 2009 Jun;5(6):425-9. doi: 10.4161/hv.5.6.7816. Epub 2009 Jun 12. PMID: 19333002.