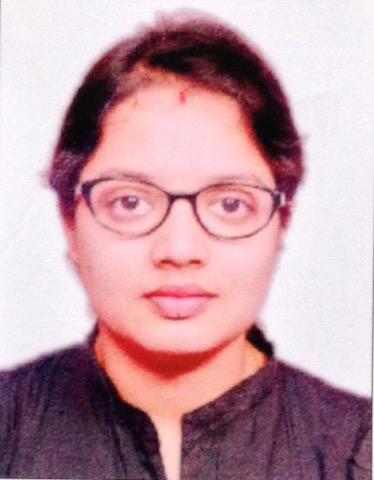 Dr. Rashmita Panigrahi
Asst. Professor
Dr. Rashmita Panigrahi
Asst. Professor
Email:

panigrahirashmita90@gmail.com
Permanent Address:

C/O-SAMARENDRA SATPATHY, SWASTIKUNJA,NAGPAL,WARD NO-2, UDALA, MAYURBHANJA,ODISHA, PIN-757041
Correspondence Address:

FLAT NO-3C, SAI APPARTMENT, BIDANASI, CUTTACK, ODISHA, PIN-753014
| Course Name | Name of PG Degree | Area of Specialization/ Specialty | Year of Qualifying degree | Name of University / Institute |
| --- | --- | --- | --- | --- |
| MBBS | | | 2013 | UTKAL UNIVERSITY |
| PG Degree | TRANSFUSION MEDICINE | IMMUNOHEMATOLOGY, APHERESIS, TRANSFUSION MEDICINE | 2018 | S.C.B MCH, CUTTACK/UTKAL UNIVERSITY |
Behera S,Sahoo NR,Panigrahi R,Prasad CR.Convalescent plasma extraction: Our recent experience . Panacea J Med Sci 2021;11(3):557-560
Ray GK, Mahapatra S, Mishra D, Parida P, Jena RK, Panigrahy R. Immunohematological work up, severity analysis and transfusion support in autoimmune hemolytic anemia patients. ISBT Science Series 2020:0:1-6
 Sahoo BB. Mahapatra S, Mishra S, Mishra D, Panigrahy R, Parida P. Prevalence of red cell alloantibodies in preganant Women. Hematology International Jr 2020;4:1-9
Mahapatra S, Ray GK, Panigrahi R, Parida P.The incidence and spectrum of transfusion transmitted infections among blood donors. Int J Res Med Sci 2018;6: 904-907
Mahapatra S, Panigrahi R, Mishra D, Ray GK, Parida P. Bombay Blood group- detection and study of prevalence of this rare phenotype along with the transfusion recommendations. Int J Sci Res 2018;7: 36-38
Sahoo D, Mahapatra S,Parida P,Panigrahi R. Various Aspects of Plateletpheresis: Its Impact on Donor and patients. Global J Transfusion Medicine 2017;2:149-54
Mahapatra S, Ray GK, Panigrahi R, Mishra D,et al. Platelet audit: To weigh the rationality between requirement and uses in blood transfusion. International Jr of Research in Medical Sciences 2016:4;4548-4551
CC of Internal Auditor and Quality Management System.
Attended CMEs conducted by Dept of Transfusion Medicine
As Resource person in training on Blood Transfusion Services by NACO in SCB.
Online Certification on Basic Course in Biomedical Research,ICMR,NIE,Chennai
Participatated in workshop :NAT in TRANSFUSION MEDICINE
Participated in JG Jolley P.G training Programme.