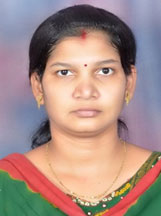 Dr. Rashmita Pradhan
Assistant Professor
Dr. Rashmita Pradhan
Assistant Professor
Email:

drrashmita15@gmail.com
Permanent Address:

C/O-DR SUBHASISH SINGH BARIK SAHI, SHANKARPUR CUTTACK-753012
Correspondence Address:

C/O-DR SUBHASISH SINGH BARIK SAHI, SHANKARPUR CUTTACK-753012
| Course Name | Name of PG Degree | Area of Specialization/ Specialty | Year of Qualifying degree | Name of University / Institute |
| --- | --- | --- | --- | --- |
| MBBS | | | 2003 | SCB MEDICAL COLLEGE,CUTTACK (UTKAL UNIVERSITY) |
| PG Degree | MD(PHARMACOLOGY) | | 2011 | MKCG MEDICAL COLLEGE, BERHAMPUR (BERHAMPUR UNIVERSITY) |
| Post Doctoral Qualification | | | | |
Meher BR, Mohanty RR, Sahoo JP, Jena M, Srinivasan A, Padhy BM. Comparative Study of the Effects of Azilsartan and Telmisartan on Insulin Resistance and Metabolic Biomarkers in Essential Hypertension Associated With Type 2 Diabetes Mellitus. Cureus. 2022 Feb 16;14(2):e22301. doi: 10.7759/cureus.22301. PMID: 35350513; PMCID: PMC8933292.
Singh, S., & Pradhan, R. (2021). Prospective analysis of risk factors and angiographic profile in women with coronary artery disease –A hospital based study. Asian Journal of Medical Sciences, 12(10), 39–46. View
Singh S, Pradhan R.Prognostic Relevance of C-Reactive Protein in Short Term Adverse Outcome in Patients with Acute Ischaemic Stroke.J Clin of Diagn Res.2021; 15(10):OC10-OC14. View>
Antiarthritic activity of aqueous extract of Aloe vera in Freund's complete adjuvant-induced arthritis model in Wistar albino rats Rashmita Pradhan| Subhasish Singh Natl J Physiol Pharm Pharmacol. 2021; 11(12): 1399-1405.