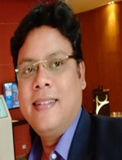 Dr. Sambit Kumar Behera
Assistant Professor
Dr. Sambit Kumar Behera
Assistant Professor
Email:

drsambit.gastro@gmail.com
Permanent Address:

Plot No. 341/1398, Binayak Nagar, Mahanadi Vihar, Post:- Nuabazar, Dist. Cuttack, Pin:-753004
Correspondence Address:

Dept. of Gastroenterology, SCB Medical College, Cuttack,753007
| Course Name | Name of PG Degree | Area of Specialization/ Specialty | Year of Qualifying degree | Name of University / Institute |
| --- | --- | --- | --- | --- |
| MBBS | | | 2007 | Sambalpur University/VSS Medical College, Burla |
| PG Degree | MD | General Medicine | 2012 | Utkal University/SCB Medical College , Cuttack |
| Post-Doctoral Qualification | DM | Gastroenterology | 2018 | Utkal University/SCB Medical College , Cuttack |
Mishra D, Dash KR, Khatua C, Panigrahi S, Parida PK, Behera SK, et al. A Study on the Temporal Trends in the Etiology of Cirrhosis of Liver in Coastal Eastern Odisha. Euroasian J Hepatogastroenterol. 2020 Jun;10(1):1–6.
Parida PK, Mishra D, Pati GK, Nath P, Dash KR, Behera SK, et al. A prospective study on incidence, risk factors, and validation of a risk score for post-infection irritable bowel syndrome in coastal eastern India. Indian J Gastroenterol. 2019 Apr;38(2):134–42.
Khatua CR, Panigrahi S, Mishra D, Pradhan S, Sahu SK, Barik RK, et al. Acute Kidney Injury at Admission Is a Better Predictor of Mortality than Its Persistence at 48 h in Patients with Acute-on-chronic Liver Failure. J Clin Transl Hepatol. 2018 Dec 28;6(4):396–401.
Behera SK, Jena RK, Sethy S, Nayak RK, Panigrahi A. Transfusion Dependent Beta-Thalassemia Developing Avascular Necrosis of Femoral Head: A Rare Case. Indian J Hematol Blood Transfus. 2017 Sep;33(3):421–2.
Behera GC, Behera SK, Jena RK, Bharati VS. Study of Methaemoglobin in Malaria Patients. Indian J Hematol Blood Transfus. 2016 Mar;32(1):100–3.