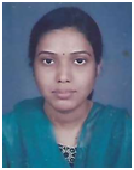 Dr. Santwana Mantri
Research Scientist-II
Dr. Santwana Mantri
Research Scientist-II
Email:

santonam_mantri@rediffmail.com
Permanent Address:

Athamallik, Angul, Odisha
Correspondence Address:

H No. 12/4, C.S.PUR, Bhubaneswar .
| Course Name | Name of PG Degree | Area of Specialization/ Specialty | Year of Qualifying degree | Name of University / Institute |
| --- | --- | --- | --- | --- |
| M. Sc. | | Bio-Technology | 2003 | Bangalore University, Karnataka |
| Ph. D (Awarded) | | In-vitro Proliferation and Characterization of Umbilical Cord Blood Stem Cell | 2016 | SCBMC, Utkal University, Bhubaneswar, Odisha |
Mantri S, Mohapatra PC. In-vitro behavior of human umbilical cord blood stem cells towards serum based minimal cytokine growth conditions. Ind J Clin Biochem ,2014; 29: 279-289. of Citations:07
Mantri S, Mohapatra PC. Evaluation and Optimization of Storage conditions of Cord Blood Stem Biomedicine, 2013; 33(2):215-223. No. of Citations:01
Mantri S, Mohapatra PC, Mishra PK, Jena Evaluation of Cord Blood biochemical parameters of term newborns in coastal parts of Odisha. Asian J. of Med Res., 2013; 2(1):19-23.
Mantri S, Kanungo S, Mohapatra PC. Cryoprotective Effect of Disaccharides on Cord Blood Stem cells with minimal use of Ind J of Hematol and Blood Transfusion, 2015;31:206 – 212No. of Citations:25.
Mantri S, Rao EV,Jena PK, Mohapatra PC. Association of CD34+ and CD90+ stem cells of Cord Blood with Neonatal Factors: A cross-sectional Ind J of Pediatr., 2016; 83(2):114-119 No. of Citations:02
Mantri S, Satpathy AK., Mohapatra PC : Trehalose: effect on cryopreservation of umbilical cord blood-derived hematopoietic stem cells. Acta Haematol Pol 2021;52(2):121-126.
Selected as DST Women Scientist (WOS-A) in the year
Organized Regional Workshop on "Good Clinical Practice(GCP)/International Council of Harmonization(ICH)" Regulations on Dt 08/04/2022, in SCB Medical College,
Organized Undergraduate Research Incubator Workshop on Dt-16/07/2022, in SCB Medical College,
Organized Workshop on "Hands-on Molecular Techniques" on Dt-20/01/2020, in MRU, SCB Medical College,
Attended workshop on Microtomy/ Ultra-Microtomy, Staining, and Imaging Techniques, ILS, Bhubaneswar from 12-13th April 2018.
Training Course in Basics of Flow Cytometry held at C-CAMP (NCBS campus, Bangalore) from 10th-13th June,
Attended workshop on Cryobiology and Cryogenics by NIT, Rourkela,2nd-9th December
Cytogenetics by FISH procedure in Department of Reproductive Biology, All India Institute of Medical Sciences(AIIMS), New Delhi,11-19th September
Assigned as In-Charge Scientist for different UG & Faculty
Co-Investigator of different Extramural ICMR/DHR Projects (MIS-C & I-PEM).