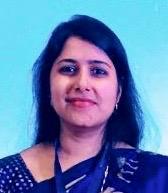 Dr. Saumya Nanda
ASSISTANT PROFESSOR
DR. SAUMYA NANDA
ASSISTANT PROFESSOR
Email:

saumyananda81@gmail.com
Permanent Address:

Plot No.1501/B, Sector-6, CDA, Markat Nagar, Abhinav Bidanasi, Cuttack Pin-753014
Correspondence Address:

Plot No.1501/B, Sector-6, CDA, Markat Nagar, Abhinav Bidanasi, Cuttack Pin-753014
| Course Name | Name of PG Degree | Area of Specialization/ Specialty | Year of Qualifying degree | Name of University / Institute |
| --- | --- | --- | --- | --- |
| MBBS | | | 2006 | UTKAL UNIVERSITY SCB MEDICAL COLLEGE |
| PG Degree | MD | O & G | 2010 | UTKAL UNIVERSITY SCB MEDICAL COLLEGE |
| Post Doctoral Qualiffication | | | | |
Oladapo O T, Vogel J P, Piaggio G…… Nanda S…. et al. Antenatal Dexamethasone for Early Preterm Birth in Low-Resource Countries. N Engl J Med. 2020 Dec 24;383(26):2514-2525. doi: 10.1056/NEJMoa2022398. Epub 2020 Oct 23. PMID: 33095526; PMCID: PMC7660991.
WHO ACTION Trials Collaborators. The World Health Organization ACTION-I (Antenatal CorTicosteroids for Improving Outcomes in preterm Newborns) Trial: a multi-country, multi-centre, two-arm, parallel, double-blind, placebo-controlled, individually randomized trial of antenatal corticosteroids for women at risk of imminent birth in the early preterm period in hospitals in low-resource countries. Trials. 2019 Aug 16;20(1):507. doi: 10.1186/s13063-019-3488-z. PMID: 31420064; PMCID: PMC6698040.
Jayasingh S Sr, Nanda S, Misra S, Baliarsinha A, Das S, Patil A. Comparison of Fetomaternal Outcomes in Patients With Gestational Diabetes Mellitus Treated With Insulin Versus Acarbose: Results of a Prospective, Open Label, Controlled Study. Cureus. 2020 Dec 25;12(12):e12283. doi: 10.7759/cureus.12283. PMID: 33403188; PMCID: PMC7773288.
Secured 9th Position In The State Of Odisha In Higher Secondary Examination, 1999.
Gold Medalist In Mbbs (Psm), 2006.
Awarded Certificate Of Appreciation By Indian Association Of Preventive & Social Medicine (Odisha State Branch), January 2007.
2nd Runners Up And Finalist In Fogsi-dr Usha Krishna Quiz 2009-2010, East Zone Yuva Fogsi, 12th July,2009.
Best Oral Presentation Of Paper "spectrum Of Gynaecological Disorders In Postmenopausal Women." In Ims West Zonal Congress, Jodhpur, 27th-28th July,2013.