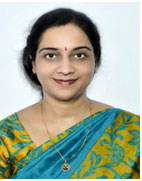 Dr. Smita Mahapatra
Professor And HOD
DR. SMITA MAHAPATRA
Professor And HOD
Email:

dr.smitamahapatra@gmail.com
Permanent Address:

C/O- Mr NK Mishra, N-1/256, Nayapalli, IRC Village, Bhubaneswar
Correspondence Address:

C/O- Mr NK Mishra, N-1/256, Nayapalli, IRC Village, Bhubaneswar
| Course Name | Name of PG Degree | Area of Specialization/ Specialty | Year of Qualifying degree | Name of University / Institute |
| --- | --- | --- | --- | --- |
| MBBS | | | 1998 | MKCG Medical College/Berhammpur University |
| PG Degree | Pathology | Immunohematology, Apheresis | 2005 | VSS Medical College/ sambalpur University |
Mahapatra S. Parida P, Prasad CR, et al.Adaptation of a Public–Private Partnership Model for the Implementation of Minipool Nucleic Acid Testing for Screening Routine Blood Donations and the Evaluation of Assay: A Multi-Center Study from Odisha, India.Journal of Laboratory Physicians 2022. DOI: 10.1055/s-0042-1748825
Mahapatra S. SARS COV-2- IgG antibodies in blood donors in pandemic – a game changer for policy makers. Transfusion Clinique et Biologique 2021 https://doi.org/10.1016/j.tracli.2021.10.004
Mahapatra S, Rattan R, Mohanty CBK. Convalescent Plasma Therapy in the management of COVID-19 patients- The newer dimensions. TransfusClin Biol.2021  28: 246–2532021. doi: 1016/j.tracli.2021.04.009
Mahapatra S, Constraints and challenges in convalescent plasma collection amidst the COVID 19 pandemic- strategies and recommendations to overcome these. Transfusion Clinique et Biologique 2021, 28;175-179
Ray GK, Mishra D, Jena RK, MahapatraS,Palai S, ParidaAA.Clinical Profile and severity of Hemolysis in Adult Patients of Primary autoimmune Hemolytic anemia and their Response to Steroid: A Prospective Cohort Study from Single institution. Indian J Hematol Blood Transfus2020:https://doi.org/10.1007/s12288-020-01326-4
Ray GK,Mahapatra S, Mishra D, Parida P, Jena RK, PanigrahyR.Immunohematological work-up,severity analysis and transfusion support in autoimmune hemolytic anemia patients. ISBT Science Series 2020:0:1-6
Sahoo BB. Mahapatra S, Mishra S, Mishra D, Panigrahy R, Parida P. Prevalence of red cell alloantibodies in preganant Women. Hematology International Jr 2020; 4:1-9
Sahu A, Parida P, Mahapatra S, Sahoo BB. Detection of red cell alloantibodies in thalassemia patients. International Jr of ContempPediatr 2020; 7:419-423
Mishra D, Ray GK, MahapatraS,Parida P. ABO Typing Resolution and transfusion support in a case of an Acute leukemia patient Showing loss of antigen expression. Cancer translational Medicine 2019; 5: 80-82
Mahapatra S, Panda BB, Palai S, Sahoo BB, Parida P. Hyperhemolysis syndrome by Bystander mechanism in siblings with sickle cell disease. Trends in Medicine 2019; 19:1-4
MahapatraS,Panda BB. Study of Alloimmunization against Red Blood Cell antigens in Multi- transfused Patients. International Jr of Medical science and current Research 2019;2: 535-542
MahapatraS,Palai S, Parida. Hemovigilance- A stepping door to enhancement of blood safety with reporting of adverse reactions in blood donation and transfusion. International Jr of Medical science and current Research 2019;2: 330-338
MahapatraS,Palai S, ParidaP,Das P. Screening of blood donors by ELISA & Nucleic acid amplification testing along with notification to TTI reactive cases- A comprehensive measure for blood safety. International Jr of Medical science and current Research 2019;2: 501-508
Mahapatra S, Ray GK. Analysis of donor deferral pattern in plateletpheresis along with recommendations for the modification of the selection criteria. International Journal of Scientific Research 2018;7:398-400
Ray GJ, Mishra D,Mahapatra S, PalaiS,et al. Rifampicin-induced hemolytic anemia: A rare case report. International Journal of Medical Science and Current Research 2018; 1:221-223
Mishra D, Parida P, Mahapatra S, Sahoo BB. Resolving blood group discrepancy in patients of Tertiary Care Center in Odisha, India. International journal of research in medical sciences 2018; 6:2348-53
Mahapatra S, Ray GK, Panigrahi R, ParidaP.The incidence and spectrum of transfusion transmitted infections among blood donors. Int J Res Med Sci 2018;6: 904-907
MahapatraS,Panigrahi R, Mishra D,Ray GK, Parida P. Bombay Blood group- detection and study of prevalence of this rare phenotype along with the transfusion recommendations. Int J Sci Res 2018;7: 36-38
Sahoo D, MahapatraS,ParidaP,Panigrahi R. Various Aspects of Plateletpheresis: Its Impact on Donor and patients. Global J Transfusion Medicine 2017;2:149-54
MahapatraS,SahooBB,RayGK,Mishra R, et al.Discard of Blood and Blood Components with study of causes – A Good Manufacturing Practice. World Jr of Pharmaceutical and Medical research 2017,3,172-175
Sahoo D, MahapatraS,Nayak R, Mishra D. No transfusion is the best transfusion. Thalassemia report 2017:7;6174
Mahapatra S, Ray GK, Panigrahi R, Mishra D,et al. Platelet audit: To weigh the rationality between requirement and uses in blood transfusion. International Jr of research in Medical Sciences 2016:4;4548-4551
Mahapatra S, Mishra D, Ray GK, Sahoo BB, et al. Analysis of the causes and study of frequency of donor deferral for blood donation. Jr of Dental and Medical Sciences 2016:15;122-124
Mahapatra S, Sahoo D, Patjoshi S, Mishra D. Adverse events in blood donors & adoption of measures to reduce such occurance. Internatinal Journal of Medical Research Professinals2016;2:62-65
Mahapatra S, Ray GK,Bhuyan P. The Trend of Transfusion Transmitted Infections among the Blood Donors in Five Years; With Special Focus on Reducing the HIV Transmission.EC Bacteriology and Virology Research 2016:2;49-5
MahapatraS,MishraD,SahooD,SahooBB.Study of Prevalence of A2,A2B along with major ABO Blood Groups to minimize the transfusion reactions.International Jr of Scientific Research 2016:5;189-90
Sahoo D, MahapatraS,Nayak R, Mishra D. A rare case of thalassemia intermedia with multiple alloantibodies. Jr of Pharmaceutical and Allied Sciences 2016:5;401-406
MahapatraS .Prevalence of Transfusion Transmitted Infections Giving Importance to HIV in Screening of Healthy Blood Donors and the Challenges Clin Res HIV/AIDS 2015:1; 1013.
Kar A,KarT,MahapatraS,Dehury P. Intra-operative cytodiagnosis of primaryovarianchoriocarcinoma with Ki67 immunoexpression.Jr of Cytology 2015:32;139-41
Mahapatra S, Sahoo D, Patjoshi S, Sahu A, et al, Distribution And Prevalence Of ABO and Rh Phenotype Blood Groups In Eastern India.J Pharm Biomed Sci2014; 04(08):712-714
Mahapatra S, SahuA,SahuD,PatjoshiS,Parida P. Platelet transfusion in a dengue epidemic as per recent WHO classification.International Jr of clinical trial 2014;3;27-30
MahapatraS,SahuA,Patjoshi S, SahooD,MishraS,ParidaP.Role of Coomb'Testin analysis of ImmunohematologicalCases.International Jr of Medical Science and Clinical Invention 2014;1:69-74
Mahapatra S, Kar A, Kar T, Das U. Glomus Tumor in Vulva with Uncertain Malignant Potential. Jr of Women's Health,issues& Care 2013;2:5
MahapatraS,KarA,BhuyanP,BiswalP,et al. Cytohistomorphological identification of congenital mesenchymal hamartoma of chest wall.Jr of Solid Tumors 2013;3: 7-11
Mahapatra S,DhalI,NayakM,Mahapatro.Cherubism –A case report.JAcad Indus Res 2013;9:565-67
Mahapatra S,DasBP,KarA,DasR,etal.Cavernous Hemangioma of uterine Cervixin Pregnancy Mimicking Cervical Fibroid 2012. Jr of Obsterics and gynecology of India 2013;63:288-290
MahapatraS,MahapatroS,BhuyanP,Pattanaik et al. Cytodiagnosis of tubercular dactylitis with skin and lymph node lesions in an immunocopetantpatient.J of Cytology & Histology 2012;3:4
MahapatraS,DasR,BeheraS,RathJ.Aspergillosis in hydatid cyst- A rare VirolMycol 2012;1:106
MahapatraS,MahapatroS,SethyS,MohantyP,etal.Basal Ganglion infart in an infant with sickle cell disease- A rare association.J Blood Disorders Tranfusion 2012;3:125
BhuyanP,PattnaikK,KarA,BrahmaRC,MahapatraS.Cryptococcal Lymphadenitis in HIV: A Chance Diagnosis by FNAC.Jr of Diagnostic Cytopathology 2012;41:456-458
MahapatraS,DasB,KarA,Das R.et al. A cavernous hemangioma of the uterinecervix during pregnancy.SouthAfr J GynaecolOncol 2012;4:63-65
BhuyanP,MahapatraS,KarA,Kar T.et al.Cervical polyp: an unusual presentation of carcinosarcoma. South Afr J GynaecolOncol2012;4:36-37
Sethy S,MahapatroS,JenaR,BuyanP,MahapatraS.Idiopathic atypical hemolytic uremic syndrome ( aHUS) with trilineagemyelodysplasia.Indian J HematolBloodTransfus 2012;28:44-46
BhuyanP,MahapatraSR,MahapatraS,SethyS,etal.Extraovarian primary peritoneal papillary serous carcinoma: Arch GynecolObstet 2010; 281:561- 564
MahaptraS.Epithelial-Myoepithelial Carcinoma of Parotid – A Rare Case Report.Webmed central 2011;2(12):WMCOO2566
BhuyanP,MahapatraSR,MahapatraS,SethyS.Congenital infantile Fibrosacoma- A rare case report: Journal of Pediatric Sciences 2010; 10; e58
BhuyanP,MahapatraS,PujariS,RathJ.Signet-Ring change in Benign Prostatic Hyperplasia- A rare case report: WebmedCentral  UROLOGY 2010; 1(9):WNCOO688
Anti nuclear antibody in an immunocompetant patient with disseminated Tuberculosis- A diagnostic dilemma: Indian Medical Gazette: August 2009: CXLII (8)
MahapatraS,SethyS,MahapatraA,BhuyanP,Mahapatra S .Hairy Cell Leukemia- Current Concepts: The Antiseptic June 2009; 106(6):278-279
MahapatraS,SethyS,MahapatraA,BhuyanP,MahapatraS,etal.Disseminatedcryptococcal lymphadenitis and meningitis in AIDs: The Antiseptic May 2009; 106(5):217-218
MishraA,TripathyK,MahapatraS,etal.Fine Needle Aspiration of Langerhans`CellHistocytosis Confined to Lymph Node: The Antiseptic September 2008;105(9):427-428
MahapatraS,MahapatraS,SethyS,BhuyanP.Kikuchi-Fujimoto Disease- A rarecase report: Indian Medical Gazette 2008; CXLII (5):206-207
Mahapatra SR,BhuyanP,SethySM,MahapatraS.Tumor Angiogenesis and Antiangiogenic Therapy – Current Concepts 2008; CXLII(8):315-320
Bhuyan P, TripathyK,PujariS,Mahapatra S.et al.Cytodiagnosis of glialHeterotopia in Scalp. The Antiseptic April 2008:105(4);166-167
Bhuyan P, Tripathy K, Mishra A,Gastric Adenocarcinoma Metastatic to Myometrium. The Antiseptic February 2008:105(2)61-62
Mahapatra S,KhalkhoJ,DeyA,etal.Primary Non-Hodgkin's lymphoma ofbreast.The Antiseptic May 2006:103(5);267-268
MahapatraS,Kar A, KarT.Synchronous endometrial and ovarian clear cell carcinoma: A rare occurrence. Odisha Journal of Pathology & Microbiology 2013 ; 16:70-71
Mahapatra S,DasR,KarK,Das B.et al. Epithelial myoepithelial carcinoma mimicking pleomorphic adenoma cytologically.Odisha J of Pathology & Microbiology.2012.15:83-85
Mahapatra S,DasB,HazraK,Kar A.et al.Xathogranulomatouspelonephritis in a female child. Odisha J of Pathology & Microbiology.2010.13:40-41
Mondal S, Mahapatra S, Brahma R,KarA,et al. Proteomics. Odisha J of Pathology & Microbiology.2010.13:36-37
Mahapatra SR,SethySM,MahapatraS.Hairy cell leukemia-current concepts.Orissa J Pathol. Microbiol2008;11:31-33
MahapatraSR,SethySM,BuyanP,Mahapatra S Idiopathic Chronic Eosinophilic Pneumonia with recurrent massive bilateral pleural effusion: Orissa Medical Journal   2007; 27(1):30-33
Mahapatra S,KhalkoJ.diagnosticCytology,Jr of IIPA,Issues of Health Care and Population 2005;13:639-42.
CORONA WARRIOR AWARD from the State of Odisha by Indian Society of Blood Transfusion & Immunohematology in the National Conference held in Chennai in 2021.
 Designated as the State Nodal Officer, Odisha for Convalescent Plasma Therapy (CPT) with the set up of Plasma Bank in the Dept of Transfusion Medicine, SCB MCH, Cuttack & was appreciated by Hon'ble CM, Odisha for the highest collection of  Convalescent  Plasma from more than 1000 Plasma Donors which were issued to COVID patients.
Currently working as Nodal Officer of Multi-Disciplinary Research ( MRU) Unit, SCB MCH & the PI for SCB MCH in Indian Clinical Trial & Education Network (INTENT), ICMR
Resource person for training on management & control of Sickle cell & Thalassemia patients in the State.
Resource person for the Nodal Centre of Medical Education Unit, SCB MCH.
Member of State Task Force for the State of Odisha for the improvement of transfusion services.
Member State technical committee for the procurement of Blood Centre equipment, reagents & consumables.
Member of Board of Studies for Transfusion Medicine & Internal examiner & guide for thesis of MD students for seven number MD, Transfusion Medicine examination.
Speaker in National Conferences / CME:
"Adaptation of a PPP model for the implementation of MP-NAT for screening routine blood donations and the evaluation of assay: A Multi-Centre Study from Odisha, India" in TRANSCON 2022 (B) Jammu.
"Beyond Hb estimation- Do we need to go for Iron monitoring?" in TRANSCON 2022 (B) Jammu.
BEST PRACTICES IN THE CARE OF THALASSEMIA IN THE STATE OF ODISHA in CME, Thalassemia Society, Delhi
Experience of NAT testing from Eastern India in TRANSMEDCON, Mumbai,2019
Achievement of State of Odisha on blood transfusion services in the State of Odisha in TRANSMEDCON, Lucknow, 2017
Thalassemia & Blood Transfusion- CME by Thalassemia Society, Kharagpur, West Bengal May 2017.
Massive transfusion protocol- what, how, and how much? In National conference of O&G,2018, Bhubaneswar 8. Developing self-sustainable blood services in the State of Odisha" in TRANSMEDCON, Bhopal, 2016