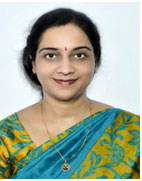 Dr. Smita Mahapatra
ASSOCIATE PROFESSOR
DR. SMITA MAHAPATRA
ASSOCIATE PROFESSOR
Email:

dr.smitamahapatra@gmail.com
Permanent Address:

C/O- Mr NK Mishra, N-1/256, Nayapalli, IRC Village, Bhubaneswar
Correspondence Address:

C/O- Mr NK Mishra, N-1/256, Nayapalli, IRC Village, Bhubaneswar
| Course Name | Name of PG Degree | Area of Specialization/ Specialty | Year of Qualifying degree | Name of University / Institute |
| --- | --- | --- | --- | --- |
| MBBS | | | 1998 | MKCG Medical College/Berhammpur University |
| PG Degree | Pathology | Immunohematology, Apheresis | 2005 | VSS Medical College/ sambalpur University |
Mahapatra S. SARS COV-2- IgG antibodies in blood donors in pandemic – a game changer for policy makers. Transfus Clin Biol. 2021 Oct 13. doi: 10.1016/j.tracli.2021.10.004. Epub ahead of print. PMCID: PMC8511886.
Mahapatra S, Rattan R, Mohanty CBK. Convalescent Plasma Therapy in the management of COVID-19 patients-The newer dimensions. Transfus Clin Biol. 2021 Aug;28(3):246-253. doi: 10.1016/j.tracli.2021.04.009. Epub 2021 May 19. PMID: 33965621; PMCID: PMC8132190.
Ray GK, Mishra D, Jena RK, Mahapatra S, Palai S, Parida AA. Clinical Profile and Severity of Hemolysis in Adult Patients of Primary Autoimmune Hemolytic Anemia and Their Response to Steroid: A Prospective Cohort Study from Single Institution. Indian J Hematol Blood Transfus. 2021 Jan;37(1):119-125. doi: 10.1007/s12288-020-01326-4. Epub 2020 Aug 7. PMID: 33707844; PMCID: PMC7900313.
Mahapatra S, Pati S. Constraints And Challenges In Convalescent Plasma Collection Amidst The Covid 19 Pandemic- Strategies And Recommendations To Overcome These. Transfus Clin Biol. 2021 Mar 4:S1246-7820(21)00036-7. doi: 10.1016/j.tracli.2021.02.003. Epub ahead of print. PMID: 33677086; PMCID: PMC7931723.
Kar A, Kar T, Mahapatra S, Dehuri P. Intra-operative cytodiagnosis of primary ovarian choriocarcinoma with Ki67 immunoexpression. J Cytol. 2015 Apr-Jun;32(2):139-41. doi: 10.4103/0970-9371.160574. PMID: 26229256; PMCID: PMC4520050.
Bhuyan P, Pattnaik K, Kar A, Brahma RC, Mahapatra S. Cryptococcal lymphadenitis in HIV: a chance diagnosis by FNAC. Diagn Cytopathol. 2013 May;41(5):456-8. doi: 10.1002/dc.21805. Epub 2012 Apr 17. PMID: 22508523.
Mahapatra S, Das BP, Kar A, Das R, Hazra K, Sethy S. Cavernous hemangioma of uterine cervix in pregnancy mimicking cervical fibroid. J Obstet Gynaecol India. 2013 Aug;63(4):288-90. doi: 10.1007/s13224-012-0193-1. Epub 2012 Oct 5. PMID: 24431659; PMCID: PMC3763056.
Sethy S, Mahapatra SR, Jena RK, Bhunya P, Mahapatra S. Idiopathic Atypical Hemolytic Uremic Syndrome (aHUS) with Trilineage Myelodysplasia. Indian J Hematol Blood Transfus. 2012 Mar;28(1):44-6. doi: 10.1007/s12288-011-0089-8. Epub 2011 Jul 12. PMID: 23450222; PMCID: PMC3311965.
Bhuyan P, Mahapatra S, Mahapatra S, Sethy S, Parida P, Satpathy S. Extraovarian primary peritoneal papillary serous carcinoma. Arch Gynecol Obstet. 2010 Mar;281(3):561-4. doi: 10.1007/s00404-009-1201-2. Epub 2009 Aug 20. PMID: 19693524.
Designated as the State Nodal Officer,Odisha for the Convalesent Plasma Therapy( CPT) with set up of plasma bank in the Dept of transfusion Medicine, SCB MCH, Cuttack
Speaker in National Conferences:
1. Experience of NAT testing from Eastern India in TRANSMEDCON, Mumbai,2019
Achievement of State of Odisha on blood transfusion services in the State of Odisha in TRANSMEDCON,Lucknow, 2017
Massive transfusion protocol- what, how and how much? In National conference of O &G,2018
"Developing self sustainable blood services in the State" in TRANSMEDCON, Bhopal, 2016.