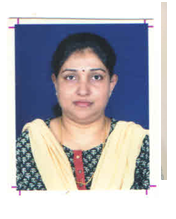 Dr. Sudha Sethy
Associate Professor
Dr. Sudha Sethy
Associate Professor
Email:

drsudhasethy@gmail.com
Permanent Address:

Plot No.936, Mahanadi Vihar, Po- Nayabazar, Ps- Chauliaganj , Dist-Cuttack-753004, Odisha, India
Correspondence Address:

Plot No.936, Mahanadi Vihar, Po- Nayabazar, Ps- Chauliaganj , Dist-Cuttack-753004, Odisha, India
| Course Name | Name of PG Degree | Area of Specialization/ Specialty | Year of Qualifying degree | Name of University / Institute |
| --- | --- | --- | --- | --- |
| MBBS | | | 1993 | Utkal University, Bhubaneswar |
| PG Degree | Pathology | | 1999 | Utkal University, Bhubaneswar |
| Post Doctoral Qualification | 2 Years special training in clinical Hematology | | 2012 | Utkal University, Bhubaneswar |
Ray GK, Jena RK, Panda T, Sethy S. Prospective identification of potential factors influencing stem cell mobilization and the necessity for plerixafor use in newly diagnosed multiple myeloma patients undergoing autologous stem cell transplantation. Hematol Transfus Cell Ther. 2020 Jul 23:S2531-1379(20)30097-3. doi: 10.1016/j.htct.2020.04.011. Epub ahead of print. PMID: 32792260.
Jena RK, Sethy S, Panigrahi A, Panda T. Autologous stem cell transplantation in elderly myeloma patients (>65 years): Single institutional experience. Indian J Cancer. 2018 Jul-Sep;55(3):307-309. doi: 10.4103/ijc.IJC_187_18. PMID: 30693902.
Mohanty P, Jena RK, Sethy S. Variability of Iron Load in Patients of Sickle Cell Anaemia (HbSS): A study from Eastern India. J Clin Diagn Res. 2017 Mar;11(3):EC19-EC22. doi: 10.7860/JCDR/2017/23286.9492. Epub 2017 Mar 1. PMID: 28511389; PMCID: PMC5427315.
Sethy S, Panda T, Jena RK. Beneficial Effect of Low Fixed Dose of Hydroxyurea in Vaso-occlusive Crisis and Transfusion Requirements in Adult HbSS Patients: A Prospective Study in a Tertiary Care Center. Indian J Hematol Blood Transfus. 2018 Apr;34(2):294-298. doi: 10.1007/s12288-017-0869-x. Epub 2017 Sep 4. PMID: 29622872; PMCID: PMC5884988.
Mahapatra S, Das BP, Kar A, Das R, Hazra K, Sethy S. Cavernous hemangioma of uterine cervix in pregnancy mimicking cervical fibroid. J Obstet Gynaecol India. 2013 Aug;63(4):288-90. doi: 10.1007/s13224-012-0193-1. Epub 2012 Oct 5. PMID: 24431659; PMCID: PMC3763056.
Mehta RK, Verma S, Pati R, Sengupta M, Khatua B, Jena RK, Sethy S, Kar SK, Mandal C, Roehm KH, Sonawane A. Mutations in subunit interface and B-cell epitopes improve antileukemic activities of Escherichia coli asparaginase-II: evaluation of immunogenicity in mice. J Biol Chem. 2014 Feb 7;289(6):3555-70. doi: 10.1074/jbc.M113.486530. Epub 2013 Dec 2. PMID: 24297177; PMCID: PMC3916557.
Sethy S, Mahapatra SR, Jena RK, Bhunya P, Mahapatra S. Idiopathic Atypical Hemolytic Uremic Syndrome (aHUS) with Trilineage Myelodysplasia. Indian J Hematol Blood Transfus. 2012 Mar;28(1):44-6. doi: 10.1007/s12288-011-0089-8. Epub 2011 Jul 12. PMID: 23450222; PMCID: PMC3311965.
Behera SK, Jena RK, Sethy S, Nayak RK, Panigrahi A. Transfusion Dependent Beta-Thalassemia Developing Avascular Necrosis of Femoral Head: A Rare Case. Indian J Hematol Blood Transfus. 2017 Sep;33(3):421-422. doi: 10.1007/s12288-016-0747-y. Epub 2016 Dec 10. PMID: 28824249; PMCID: PMC5544638.