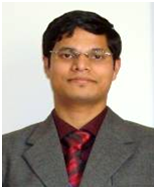 Dr. Sudhir Kumar Mahapatra
Assistant Professor
Dr. Sudhir Kumar Mahapatra
Assistant Professor
Email:
Permanent Address:
Correspondence Address:
| Course Name | Name of PG Degree | Area of Specialization/ Specialty | Year of Qualifying degree | Name of University / Institute |
| --- | --- | --- | --- | --- |
Kumar Panigrahi T, Das A, Mohanty T, Samanta S, Kumar Mohapatra S. Study of relationship of posterior tibial slope in anterior cruciate ligament injury. J Orthop. 2020 Sep 11;21:487-490. doi: 10.1016/j.jor.2020.08.032. PMID: 32999535; PMCID: PMC7501475.
Sahoo MM, Mahapatra SK, Sethi GC, Sahoo A, Kar BK. Role of percutaneous transpedicular biopsy in diagnosis of spinal tuberculosis and its correlation with the clinico-radiological features. Indian J Tuberc. 2019 Jul;66(3):388-393. doi: 10.1016/j.ijtb.2018.05.019. Epub 2018 Jun 8. PMID: 31439185.
Sahoo MM, Mahapatra SK, Sethi GC, Dash SK. Patellar ligament rupture during total knee arthroplasty in an ochronotic patient. ActaOrthopTraumatolTurc. 2014;48(3):367-70. doi: 10.3944/AOTT.2014.3245. PMID: 24901931.
Mahapatra SK, Sud A, Mehtani A. Pediatric cervical disc calcification simulating tubercular spondylitis – A case report. J ClinOrthop Trauma. 2013 Mar;4(1):46-8. doi: 10.1016/j.jcot.2013.02.002. Epub 2013 Mar 4. PMID: 26403776; PMCID: PMC3880512.
Mahapatra SK, Jangira V, Kalra M. Neonatal radial nerve palsy associated with humerus fracture: is the fracture to be blamed? Orthop Surg. 2014 May;6(2):162-4. doi: 10.1111/os.12106. PMID: 24890300; PMCID: PMC6583123.
Mahapatra S, Hampannvar A, Sahoo M. Tension band plating in growth modulation: A review of current evidences. ActaOrthop Belg. 2015 Sep;81(3):351-7. PMID: 26435226.
Mahapatra SK, Hampannavar A. Classification of relapse pattern in clubfoot treated with Ponseti technique. Indian J Orthop. 2014 Sep;48(5):537. doi: 10.4103/0019-5413.139896. PMID: 25298569; PMCID: PMC4175876.
Sahoo MM, Mahapatra SK, Sethi GC, Dash SK. Posterior-only approach surgery for fixation and decompression of thoracolumbar spinal tuberculosis: a retrospective study. J Spinal Disord Tech. 2012 Oct;25(7):E217-23. doi: 10.1097/BSD.0b013e31826a088e. PMID: 22854920.