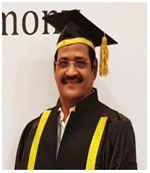 Dr. Tushar Kar
Professor
DR. TUSHAR KAR
Professor
Email:

drtusharkar@yahoo.co.in
Permanent Address:

Srushti, Bajrakbati Canal Road Cuttack -753012
Correspondence Address:

Srushti Multi Speciality Hospital Bajrakbati Canal Road Cuttack -753012
| Course Name | Name of PG Degree | Area of Specialization/ Specialty | Year of Qualifying degree | Name of University / Institute |
| --- | --- | --- | --- | --- |
| MBBS | | | 1983 | Utkal university |
| PG Degree | MD | Obst. & Gyn. | 1988 | Utkal university |
| Post Doctoral Qualification | Fellowship laparoscopic surgery | Laparascopy | 1990 | U.S.A |
Kar A, Pattnaik K, Kar T, Biswal P, Mishra C, Guru L. Clear cell lesions in pathology: Histomorphologic approach to diagnosis. Indian J PatholMicrobiol. 2020 Apr-Jun;63(2):177-187. doi: 10.4103/IJPM.IJPM_791_19. PMID: 32317512.
Asaranti K, Pranati M, Tushar K, Jagadish B, Susmita B, Amarendra N. Autopsy findings in conjoined twin with single heart and single liver. Case Rep Pathol. 2012;2012:129323. doi: 10.1155/2012/129323. Epub 2012 Aug 26. PMID: 22957286; PMCID: PMC3432525.
Sahoo TK, Kar T, Kar A, Panda S. Poorly Differentiated Sertoli-Leydig Cell Tumour of Ovary with Heterologous Elements. J ClinDiagn Res. 2017 May;11(5):XD01-XD02. doi: 10.7860/JCDR/2017/25262.9860. Epub 2017 May 1. PMID: 28658892; PMCID: PMC5483794.
Kar T, Kar A, Dhal I, Panda S, Biswal P, Nayak B, Rout N, Samantray S. Serous Tubal Carcinogenesis: The Recent Concept of Origin of Ovarian, Primary Peritoneal and Fallopian Tube High-Grade Serous Carcinoma. J ObstetGynaecol India. 2017 Dec;67(6):432-441. doi: 10.1007/s13224-017-1009-0. Epub 2017 Jun 1. PMID: 29162958; PMCID: PMC5676573.
Kar A, Kar T, Mahapatra S, Dehuri P. Intra-operative cytodiagnosis of primary ovarian choriocarcinoma with Ki67 immunoexpression. J Cytol. 2015 Apr-Jun;32(2):139-41. doi: 10.4103/0970-9371.160574. PMID: 26229256; PMCID: PMC4520050.
Kar A, Kar T, Dha I, Panda S. Squash cytodiagnosis of synchronous papillary serous carcinoma of ovary and endometrium with demonstration of serous tubal intraepithelial carcinoma as a precursor lesion. Indian J PatholMicrobiol. 2017 Jan-Mar;60(1):125-127. doi: 10.4103/0377-4929.200039. Erratum in: Indian J PatholMicrobiol. 2017 Apr-Jun;60(2):278. PMID: 28195111.
Kar A, Kar T, Kanungo S, Guru L, Rath J, Dehuri P. Risk factors, organ weight deviation and associated anomalies in neural tube defects: A prospective fetal and perinatal autopsy series. Indian J PatholMicrobiol. 2015 Jul-Sep;58(3):285-91. doi: 10.4103/0377-4929.162832. PMID: 26275247.
Daigavane MM, Jena RK, Kar TJ. Perinatal outcome in sickle cell anemia: a prospective study from India. Hemoglobin. 2013;37(6):507-15. doi: 10.3109/03630269.2013.828301. Epub 2013 Aug 19. PMID: 23952263.
Kar T, Dash A, Kanungo S, Kar A. Botryoid rhabdomyosarcoma of vagina–two case reports. J Indian Med Assoc. 2004 Sep;102(9):512, 514. PMID: 15887839.
Kar A, Kar T, Pattnaik K, Biswal P. Carcinosarcoma in dermoid cyst of ovary: an extremely rare malignant transformation. Indian J PatholMicrobiol. 2013 Apr-Jun;56(2):176-7. doi: 10.4103/0377-4929.118691. PMID: 24056662.
CSIR Senior Research Fellow – 1984 -1987
MICOG
FICOG
FICMCH
Best Book  Publication D.C.Dutta Award – 2011
State Dharanidhara Award -2010
Vice President FOGSI -2010
State Tarini Prativa Sanmman -2015
National Corresponding Editor, FOGSI Journal -2014 -2016
Peer Reviewer, IJOG, Indian Edition- 2015 -2017
Organising Secretary, National IAGE Conference – 2016
Best FOGSI Original publication award -2018
Organising Chairperson, ICOG –FOGSI National Conference -2019
Chairperson ICOG – 2019-20 ( Indian College of Obstetrics & Gynaecology)
Authored two textbooks "Do's & Don'ts in OBGYN" & "Safe Surgical Practice"